Modric: English journalists were disrespectful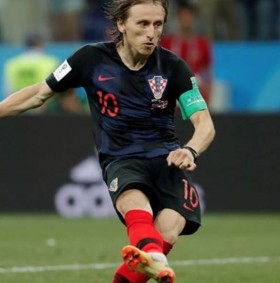 Croatia midfielder

Luka Modric

has labeled English journalists as disrespectful after they underestimated the Croatians ahead of their 2-1 win over England in the semi-final of the World Cup.
Ahead of the game on Wednesday, English pundits said that England had an advantage over Croatia due to the fact that Zlatko Dalić's team would be tired from playing two consecutive extra-time games in the second round and quarter-final against Denmark and Russia respectively.

"English journalists, pundits from television, they underestimated Croatia and that was a huge mistake," Real Madrid's Modric told ITV. "They should be more humble and respect more opponents."

The Croatians played more minutes than Gareth Southgate's men ahead of the game, but the number one dark horse of the tournament showed no signs of fatigue, and chased the game with a lot of strength.

Croatia will now face France in the final having played three consecutive 120 minute games. With France playing 24 hours earlier in their semi-final win over Belgium, the French have more time to rest and prepare for the final.

This should not give the French a huge advantage over Croatia because the group D winners still have three days to prepare before the day of the final.