Barcelona's sporting director gives an update on Ivan Rakitic's future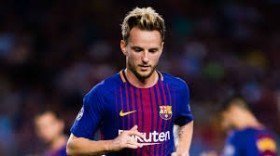 The future of Barcelona superstar

Ivan Rakitic

was hanging in the balance. The club's sporting director has now provided a major update on his situation.


Barcelona star Ivan Rakitic has been in the spotlight since the last week or so for his absolute scorcher of a goal at the Wembley Stadium against Tottenham Hotspur in the Champions League. However, earlier than that, the former Sevilla midfielder's future was under the spotlight.

Paris Saint-Germain were interested in his services and it was also reported that the Catalans were open to selling the Switzerland born Croatia international given his age. Also, his form in the last season was full of inconsistency, a factor that rendered a lot of criticism over the entire year.

The French giants were all set to pay his release clause of 125 million euros after monitoring him throughout the FIFA World Cup 2018 in Russia. Ivan Rakitic played a vital part as his country surged to the final of the competition by defying all odds. But in a recent interview, Barcelona's sporting director Pep Segura has ruled out and insisted that the club did not want to sell him.

"We did not contemplate his exit," Segura told Sport. "We knew that he had an option from a foreign club, but we had no interest in him going. In Spanish football, there's a complex weapon with the release clauses. We're the only league with [mandatory] release clauses and the danger [that the clauses are triggered] is there, but neither the club nor player wanted him to leave."

During the summer, Barcelona strengthened their midfield by signing the likes of Malcom, Arthur and Arturo Vidal. But the former Bordeaux man is yet to make his breakthrough under Ernesto Valverde. Segura insisted that his time will eventually come at the club.

"Nothing [is wrong with Malcom] – he's young," Segura added. "We signed him because he has talent. Now he's not getting minutes, but there's no problem with [the] staff or anyone. He will have minutes because the season is long. Ernesto is also a person at the club. All the decisions are taken together. Valverde never said that in the sense you interpret it. He has the maximum respect for all the players and would never take steps to break the equilibrium in the dressing room."

OPINION: Barcelona certainly made a good decision by deciding to keep Ivan Rakitic. He is criminally underrated and is delivering despite the lack of rest that he has gotten. Plus, there is literally no cover in his position.