Liverpool's Sadio Mane breaks hand, becomes latest injury concern for Jurgen Klopp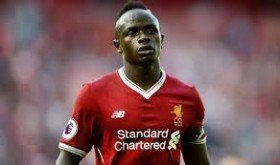 Sadio Mane

has become the latest injury concern for Liverpool after it was confirmed the forward has broken a bone in his hand.


Mane is the third Liverpool player to give Jurgen Klopp an injury concern during this international break, with Mohamed Salah and Virgil van Dijk also withdrawing from national team duty early.

Sources have told ESPN FC that Liverpool believe it is too early to determine whether any of the injured players are doubts for Saturday's trip to Huddersfield Town.

Mane fractured his left thumb during Senegal's 3-0 win over Sudan on Saturday and will miss Tuesday's return fixture, according to team doctor Abdourahmane Fedior.

"All the players are in good shape, apart from Sadio Mane, who has injured his left hand," Fedior said. "We did an x-ray today to see what is the state of play.

"Unfortunately, the diagnosis isn't great. He has a fracture at the top of the first metacarpal on his left hand, which was due to it being squashed during the last match."

He is due to depart the Senegal squad on Tuesday and will be fully assessed by the Liverpool's medical staff upon his return to Melwood.

Meanwhile, Salah picked up a groin injury in Egypt's game with Swaziland on Friday and has since returned to Liverpool.

A spokesperson for the Egyptian Football Association told ESPN FC that claims Liverpool had requested to them that Salah missed at least one of their games with Swaziland for fear of stress were "incorrect."

Netherlands manager Ronald Koeman, however, revealed the medical staff at Liverpool and the Dutch national team had reached an agreement for Van Dijk, who had been battling a pre-existing rib injury, to miss Tuesday's friendly with Belgium.

Van Dijk played the entirety of Netherlands' 3-0 win over Germany on Saturday, with Koeman subsequently claiming the centre-half has been playing with two broken ribs for the past few weeks.

Mane's hand issue will mean he sits out Senegal's African Nations Cup qualifier in Sudan, which is to be played on an artificial surface at Khartoum Stadium. Klopp has expressed concerns, both publicly and privately, about playing on synthetic fields.

There is some positive injury news for Klopp in that Adam Lallana continues to participate in full training for Liverpool.