Anthony Martial Reportedly Rejects Several Extension Offers from United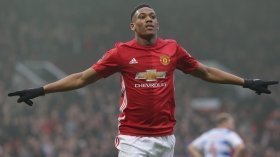 We've known since the summer that

Anthony Martial

wants out of Manchester United. The winger's agent,

Philippe Lamboley

, told the media as much during the summer transfer window.
Despite his pleas to leave, the club initiated negotiations to extend his current contract anyway, but the talks don't seem to be going anywhere right now.

Early in the season, we saw reports claiming that Executive Vice President Ed Woodward wants the Frenchman to stick around, despite manager Jose Mourinho wanting to part ways with the player.

Ever since Alexis Sanchez was acquired last January, Martial has seen his playing time and scoring production diminish.

(What's odd is that Alexis has produced next to nothing during his time at Old Trafford, making his replacing Martial a terrible experience for both players)

Martial's contract expires in the summer, but the club do have an option to extend him another season if they so desire.

According to RMC Sport, Martial has rejected several contract extension offers from the club. However, it is expected that Anthony Martial will agree to a new deal, eventually. Once January gets here, clubs from outside England will be able to discuss pre-contract terms with Martial as an impending free agent.

In other words, the clock is ticking to try and get a deal done before that period officially arrives.

Martial has seen his production decline over the course of his time at United. His first season, 2015-16, he scored 17 goals. Since that campaign, he's added only 21 more.