Jurgen Klopp praises Tottenham ahead of crucial clash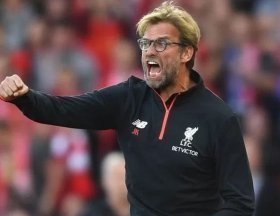 Today's crunch game between Liverpool and Tottenham will arguably be the biggest game of this game week, and prior to the tie

Jurgen Klopp

took time to heap praise on Spurs' recent progress. Liverpool know that the club need to win to stay in touch with Man City in the Premier League title race.


Klopp also took time to reserve special praise for Tottenham counterpart Mauricio Pochettino, celebrating the Argentine's tactical awareness despite Spurs' lack of transfer signings in recent transfer windows.

"We can expect a strong Tottenham, they are a world-class team," Klopp told reporters. "In England, the country of transfers, it makes a pretty big statement when you don't sign anyone at all, but in a way I could see why Mauricio Pochettino did that, why they were not too concerned last summer when they didn't bring in any new players.

"Mauricio is just a brilliant coach and his team is really good already. Now the players have a lot more experience of playing together, of finding solutions to different problems, and that makes them a really tough opponent."

Klopp went on to praise Tottenham: "It is pretty easy to sit down and view Spurs games if you like watching good football. Even if they haven't won their last few games they always manage to come up with good moments, in fact sometimes they have so many good moments it is hard to work out how they lost the game."