Arsenal fans want Bellerin to captain the Gunners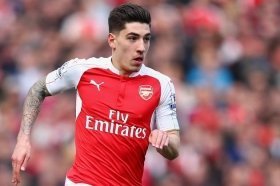 Arsenal supporters agree that

Hector Bellerin

should captain the Gunners. The opinion is voiced after Bellerin's reaction to the incident in the match against Crystal Palace.
Arsenal ended the game with a score of 2-2. Fans vented their frustration on the team captain, Granit Xhaka. But the response given by Xhaka was very surprising. He cursed them.



Now the management is considering removing Xhaka from the captaincy.

"He was wrong," said Emery. "We need to stay calm, speak to him internally about that. We are working with the club and the players to play under pressure.

On the other side, Bellerin tried to calm all parties with his tweet.

"We are all humans, we all have emotions, and sometimes it's not easy dealing with them. It's time to lift each other up, not to push each other away. We only win when we are together," he wrote.

Bellerin's tweet earned him the support of Arsenal fans to be the team captain. That's because Bellerin is a favorite figure and has good relationships with all players.

"Hector Bellerin deserves to be captain of Arsenal. Why is he not captain of Arsenal at this time?," one of the Arsenal fans wrote.

"Actually, I think that Hector Bellerin is the real captain." said another supporter.