ESPN pundit says Chelsea are going nowhere in the Champions League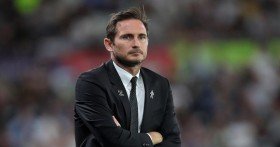 ESPN pundit

Alejandro Moreno

believes Chelsea won't progress into the final stages of the Champions League, given they are uncertain in the defensive scheme of things.
The Blues played out a 2-2 draw against Valencia on the road last night but they could have quite easily succumbed to a heavy defeat, had Los Che taken the clear-cut chances on offer.

Elsewhere, Kepa Arrizabalaga had another nervous outing as he was average with his distribution and it has not been the first time that this has happened this season.

Speaking on ESPN FC, Moreno was far from pleased with the defensive performance of both teams and stated that the Blues have a genuine concern with Kepa between the sticks.

"What I saw today is reasons as to why both of these teams, even if they advance in this competition, they're going nowhere in this competition," he told.

"In the case of Chelsea, I know he made a penalty save, Kepa has to be better. I've turned the page on this guy. I don't think this guy is for real."

Chelsea are on the same number of points as Valencia after five group stage games and they will ensure their progress to the knockouts, provided they beat Lille at home in the final matchday.