Juventus eyeing summer move for Chelsea star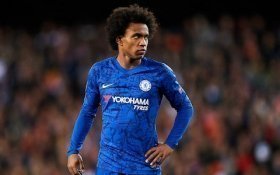 Juventus are willing to sign Chelsea winger Willian, who is set to become a free agent in the summer.


The Brazilian's future at the Stamford Bridge remains unresolved as he is yet to give the nod to a contract extension.

The 31-year-old was heavily linked with a move to Barcelona for a cut-price deal of £20m in the January transfer window, but the transfer couldn't see its light.

According to Mirror, Serie A giants Juve are ready to sign Willian for free in the summer like they did with the Welsh winger Aaron Ramsey last summer.

However, Maurizio's Sarri's presence could hinder the transfer as Willian finds the Italian manager's ethics an incompatible one.

Willian's move to Barca also looks an unlikely one as they have prioritized the signing of Inter striker Lautaro Martinez this summer and are expected to sign a short-term replacement for Ousmane Dembele in the coming weeks.

The Bianconeri are currently having a fair share of attackers in their line up and will receive the services of Dejan Kulusevski next season.