Four Footballers Who Might Be Found in a Casino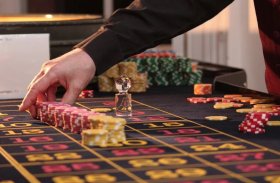 Being a professional footballer presents players with lots of opportunities to explore hobbies and interests, especially in the modern game. Training until early afternoon means there is plenty of free time to exploit, and these days a disposable income means pretty much any pastime is available to players.
Some use the time to develop their future careers after they have retired through studying, others get out on the golf course, and a few like to visit casinos.It's not new for players to enjoy games off the football pitch; Queens Park Rangers star Stan Bowles liked to indulge in his own way back in the seventies, but with the rise of online gaming and new casinos across the globe, players have much more opportunity to get around a table and play their favourite games.Here are four players you might just find in a casino near you.



James Maddison

The former Norwich City midfielder is enjoying a strong season for Leicester City and may even be a target for Manchester United this summer. The 23-year-old has been capped by England and joined the Foxes for a fee thought to be around £20m.He might have made his England debut earlier were it not for an illness.

He was due to face the Czech Republic in 2019 but was sent home with flu. Three days later, he visited a Leicester casino during his downtime. Although it caused a bit of a stir, it shows one way the young man likes to relax when not on duty.

Cristiano Ronaldo

Cristiano Ronaldo, known by his brand CR7, is perhaps the most recognisable player in the world, with an income that eclipses almost all his peers. He's also no stranger to casinos, having been seen across the globe playing poker, with a stay in Melbourne making headline news.

His interest in the game has also seen him become the face of an online gaming brand, which is the method by which many new players are attracted to casinos. Gala Casino shows how online gaming appeals to new players by offering an opportunity to play popular casino games from the comfort of their own home.

These online games and welcome bonuses are often the gateway for novice players as they are much easier to play than traditional casino games. That's led to an explosion in online gaming's popularity and seen several players becoming the face of different brands, such as Neymar, Rio Ferdinand and Zlatan Ibrahimović.

Mario Balotelli

There was a time when Mario Balotelli was one of the most controversial players in England. The 29-year-old was at the start of his career when he joined Roberto Mancini at Manchester City and instantly became a tabloid favourite. Whether he was struggling to get a bib on, or causing controversy off the field with fireworks, the paparazzi followed him everywhere.

His passion for the casino led to headlines of the right sort in 2011. He won £25,000 on a trip to a Manchester casino, and on his way home, he gave a homeless man £1000 from his winnings, showing a benevolent side to his character. Balotelli is still a fan of casinos even now as he enters his twilight years with Brescia in Serie A.

Steve Watts

Watts isn't a name many of you will know from his football career; he played for Leyton Orient, Shrewsbury Town and Lincoln City amongst others, picking up his first professional contract after winning a newspaper competition whilst playing for non-league Fisher Athletic.The striker is 43 now and is perhaps known for his time in casinos rather than on a football field. He's become a renowned poker player, with close to $1m (£760,000) in career winnings. Oddly, he was also the manager of 2015 X Factor winner Louisa Johnson.