Cech plays down injury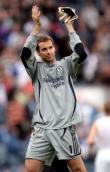 Chelsea goalkeeper

Petr Cech

has played down suggestions his season could be over, after a training ground incident that left him needing 50 stitches in his lip and chin.
"I might possibly be back in two weeks. It depends on what the plastic surgeon will say to me," Cech told Idnes. "I believe we will soon find a way of protection to allow me to return to training. Then everything will depend only on me.

"It is not that serious. It is all about finding a solution to prevent a further tearing of the wound. But I believe that it will be sorted out and I will return to action soon. Doctors are positive as well, it should not be a big problem."