Neutral venues: what does this mean for the Premier League?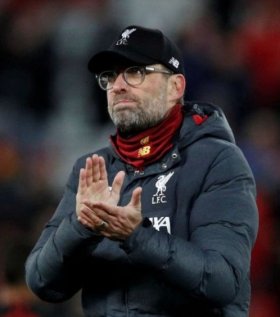 With the Premier League set to restart after the coronavirus, some games will be played at a netural venue; we assess how this could impact the final league table.


Whilst Liverpool's long wait to win the Premier League is likely to finally come to an end, the global coronavirus pandemic is likely to take some of the shine off of the glory for Liverpool fans, who may be unable to watch their team win the title at a stadium or even gather nearby Anfield to celebrate a potential title victory. It is understood that several of Liverpool's final games are likely to move to neutral venues in order to protect the health of the public.

Liverpool's police force have indicated that the following games are likely to be moved to neutral venues:

Manchester City v Liverpool

Manchester City v Newcastle

Manchester United v Sheffield United

Newcastle v Liverpool

Everton v Liverpool

Any other game in which Liverpool could secure the title

Deputy Chief Constable Mark Roberts confirmed to reporters that the plan would likely take place in the best interests of public health:

"We have reached a consensus that balances the needs of football, while also minimising the demand on policing," said Roberts.

"The majority of remaining matches will be played, at home and away as scheduled, with a small number of fixtures taking place at neutral venues, which, contrary to some reports, have yet to be agreed.

"The views and agreement of forces which host Premier League clubs have been sought and where there were concerns, the Premier League has been supportive in providing flexibility in arranging alternative venues where requested.

"This plan will be kept continually under review to ensure public health and safety and a key part of this is for supporters to continue to respect the social distancing guidelines, and not to attend or gather outside the stadiums."

The move to distance fans away from Anfield in the wake of a Premier League victory is to prevent supporters from gathering in a small space and to promote social distancing. As already reported, Liverpool's game against Atletico Madrid is likely to have been a major cause for the UK's own coronavirus spread, with several thousand Spanish fans traveling to England for the Champions League game that the Anfield giants lost. At that point many Spanish supporters could have been showing no sign of symptoms. Coronavirus is labelled "the silent killer" because it can take up to 14 days before the first symptoms are displayed in patients.

Due to the requirement for social distancing, Liverpool are likely to secure their first title at a neutral ground, and even the huge upcoming Merseyside derby against Everton is to be played at a neutral venue in the best interests of public health.

The league is set to restart on June 17th and there is still plenty to play for, particularly in the lower depths of the league table.

The relegation race remains wide open, with West Ham, Watford and Bournemouth all sitting on 27 points, just two ahead of Aston Villa. Norwich City are on 21 points and are six points behind the pack, but Brighton sit precariously close to the relegation places in 15th place on 29 points. The 40 point mark is considered "the safety mark" and with just 11 games to play, the relegation battle is sure to heat up very quickly once football recommences.

In addition to that, there is also all to play for in the race for Champions League football. Chelsea are currently in fourth place, just 3 ahead of Man Utd, whilst Wolves, Sheff Utd, Tottenham and Arsenal all could push for a late challenge for European qualification. Arsenal also have a game in hand to their bitter rivals Spurs in 8th, so could potentially leapfrog Tottenham in to joint 6th on 43 points, alongside Sheffield United and Wolves.

How all of this plays out, it will be fascinating to see. English Premier League football fans will be delighted to see football restart after a three month absence.