Premiership spend $1bn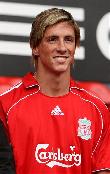 English football teams spent more than 500 million pounds (741 million euros, 1.007 billion dollars) on new players over the summer, a record amount, as club coffers soared, a report said Tuesday.
"Transfer spending by English clubs (in the top four divisions) has exceeded 500 million pounds this summer, around two thirds higher than the previous record of 300 million pounds spent in summer 2006," a report from Deloitte and Touche said.

Huge transfer fees such as the one paid by Liverpool for Fernando Torres are all indicators of the increasing trend for Premiership sides spending large sums on talent.

Reasons for this could be summer takeovers of Man City and Newcastle, who have both spent considerable amounts of money.

"New owners at Premier League clubs combined with the increase in broadcast payments to clubs for the 2007/08 season, are key drivers of the unprecedented rise in spending," financial group Deloitte and Touche said.