Arsenal forward Balogun joins Reims on loan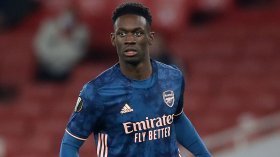 Folarin Balogun

will move to Ligue 1 for the 2022/23 campaign after being informed that he would not be needed for Arsenal's campaign this Premier League season. Reims have agreed to pay the entirety of Balogun's salary for the temporary spell, and is a huge coup for the club considering Balogun originally mentioned as a long term successor for duo Lacazette and Adebayor.


The 20-year-old will move to France as a replacement for Huge Ekitike, who has moved to Paris St Germain on loan for the season.

Balogun spent a spell with Middlesbrough last year, and scored three goals and returned three assists in 21 league games.

The striker has only appeared briefly during pre-season for Arsenal, but manager Mikel Arteta has hinted that the door will always be open fo rthe striker at the Emirates Stadium and the forward is very highly rated at the club.

Balogun has only recently signed a new contract, having been linked with a transfer away from Arsenal two summers ago.

Reims will guarantee Balogun regular first-team football this season in Ligue 1.