Aston Villa manager expects improvement from attacking 5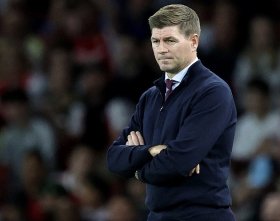 Aston Villa yesterday drew 1-1 with Nottingham Forest in the Premier League, and the club's manager

Steven Gerrard

called upon five first-team names to begin to show their best form once more. Villa have so far struggled this campaign, leaving the club's supporters beginning to wonder if Gerrard is the right man to take the club forward into the future.
It appears that Gerrard feels the attacking output at the club does not meet his expecations, and called out Philippe Coutinho, Emi Buendia, Ollie Watkins, Danny Ings and Leon Bailey as the players he wants to see better performances from.

Gerrard told reporters: "I need effort and application. A lot of our performance is okay up until a certain point. If you look around our dressing room and see Coutinho, Buendia, Watkins and Ings. Bailey will be back soon too.

"I need these players to step up and provide big moments and go and be headline-writers for us."

The former England captain has had an interesting campaign so far, having stripped Tyrone Mings of the captaincy just prior to the beginning of the new season, preferring John McGinn to wear the captain's armband.

After disappointing results against Crystal Palace, West Ham, and a couple of draws against Leeds United and Forest, it does appear that frustration appears to be growing at Villa Park.

During the summer, Villa brought in Diego Carlos for £26,000,000 from Sevilla, for the centre-back only to end up on the doctor's table with a long-term injury. Meanwhile signing Philippe Coutinho on a permanent basis seems like a good idea, but the Brazilian has yet to reproduce the same form of last campaign. Leander Dendoncker's transfer deadline day arrival has yet to produce the form Gerrard expects, too.

The club's manager will be hoping that he can keep his stars performing to the best of their ability, and his board happy with results up until the World Cup and beyond the showpiece tournament, into January, so that new faces can be signed for the second half of the Premier League season. Gerrard's comments suggest that attack is an area that he may be looking to address.

But more importantly, keeping the club's support happy with progression, and ensuring that Aston Villa tickets are being purchased for the club's important upcoming games will be Gerrard's top priority. If he loses the support of the fans, then Gerrard could well end up a favourite for the next Premier League manager to lose his job.



In a recent interview with BT Sport, Gerrard told reporters that losing his job was a real concern: "I am really honest and critical of myself. If I stood here and said I wasn't concerned I think you'd look at me as though I was from a different planet."