Cody Gakpo opens on Man Utd move talk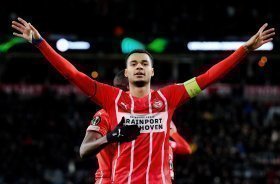 PSV Eindhoven attacker

Cody Gakpo

has opened up on talk of a potential move to Man Utd, explaining that he was very close to joining the Old Trafford side. Leeds United emerged as last minute candidates to sign Gakpo, but in the end, the winger opted to stay put in the Eredivisie.


It is highly likely that Premier League clubs will be making a move for Gakpo in the future, but it was Manchester United who were in pole position.

"I was close to leaving, I spoke to Erik ten Hag a few times at Manchester United," he told The Times. "In the end the deal didn't go through, which was a shame, for me and my development, and because Manchester United is one of the biggest clubs in the world, but also for PSV, because to transfer a player to Manchester United is a good thing for the club.

"It ended about a week before the end of the transfer window and in that week I had to decide if I would go to Leeds or Southampton. In the end I stayed, but it was a stressful period.' "I always said if I stay here, it's my childhood club. It's not a punishment. 'I like being here, I want to win trophies here and do my best for the club."