Liverpool or Man Utd top option for South Korean defender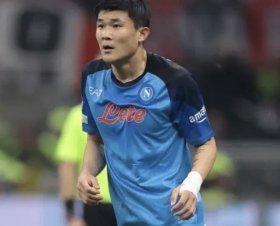 Kim Min-jae is a name that Premier League supporters will be hearing a lot of the course of the summer, as both Liverpool and Manchester United have been linked with a move for the South Korea international. Having won Serie A with Napoli, the centre-back is ready for his next move, and could be allowed to head for England in a move worth a reported 70 million euros.


This season, Kim Min-jae's first with Napoli, saw him play 33 games and score two goals, but defensively he has been an absolute rock for the Naples side.

This has brought interest from Europe's top clubs in acquiring Min-jae's services, and Liverpool appear to be in pole position just ahead of Man Utd.

Born on November 15, 1996, in Seoul, South Korea, Kim Min-jae's football journey began at a young age. Blessed with a towering height, strength, and exceptional defensive instincts, he quickly made a name for himself in South Korea's K League. Kim's performances caught the attention of European clubs, and in 2019, he made a move to Beijing Guoan in the Chinese Super League.

During his time in China, Kim continued to impress with his dominant displays at the heart of the defense. His ability to read the game, win aerial duels, and make timely interceptions showcased his maturity beyond his years. These performances did not go unnoticed, and in 2021, Napoli secured the services of Kim Min-jae.

Kim's arrival at Napoli brought a new dimension to the team's defensive solidity. His towering presence and ability to marshal the backline provided a sense of stability and confidence to his teammates. Kim's partnership with other defenders was seamless, and his composure under pressure allowed Napoli to withstand the attacks of some of the most formidable teams in Serie A.

As the season progressed, Napoli's defensive record improved significantly, owing in large part to Kim's contributions. His consistent performances earned him praise from fans, pundits, and fellow professionals alike. Kim's aerial prowess and physicality made him a dominant force in both defensive and offensive set-pieces, contributing crucial goals to Napoli's title charge.

Napoli's triumph in Serie A marked a historic moment for the club, and Kim Min-jae played an instrumental role in their success. His ability to neutralize opposing attackers, provide leadership at the back, and make key defensive interventions made him an indispensable part of the team's setup.

Should he move to United, that would pave the way for a departure for Harry Maguire and also the already departed Phil Jones. Meanwhile at Anfield, Liverpool are looking for a partner for Virgil van Dijk after a very disappointing 2022-23 season.