Arsenal to re-sign Serge Gnabry?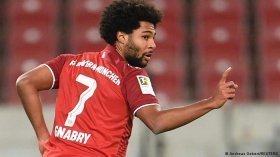 Arsenal could re-sign their former youth player

Serge Gnabry

from Bayern Munich this summer, as the club apparently seeks to rebuild their squad for next season. Bayern appear to have lost the Bundesliga title with one game to go, as the league title remains in Borussia Dortmund's hands.


From his early days in the Arsenal academy to his rise to prominence on the international stage, Gnabry's career is a testament to his talent, perseverance, and dedication.

Born on July 14, 1995, in Stuttgart, Germany, Serge Gnabry began his football journey at an early age. His talent caught the eye of Arsenal scouts, and he joined the prestigious Arsenal academy in 2011. Gnabry's time at Arsenal proved to be instrumental in his development as a player. Under the guidance of Arsène Wenger, he honed his technical skills and showcased his potential.

Gnabry made his first-team debut for Arsenal in the 2012-2013 season, where he showcased glimpses of his immense talent. Blessed with blistering pace, exceptional dribbling ability, and a powerful shot, he quickly became a fan favorite. However, injuries hindered his progress, limiting his appearances for the club.

After a loan spell at West Bromwich Albion, Gnabry's career took an unexpected turn. In 2016, he made a move to the German club, Werder Bremen, which proved to be a turning point. Gnabry flourished in the Bundesliga, exhibiting his full potential and cementing his status as one of the league's most exciting talents. His remarkable performances attracted the attention of Bayern Munich, one of Europe's top clubs.

Since joining Bayern Munich in 2017, Gnabry has gone from strength to strength. He formed a formidable attacking partnership with Robert Lewandowski and played a key role in Bayern's treble-winning campaign in the 2019-2020 season. Gnabry's ability to score crucial goals, create opportunities for his teammates, and perform on the biggest stages has established him as a top-class winger.

Gnabry's international career with the German national team has also flourished. He played a vital role in Germany's triumph at the 2017 FIFA Confederations Cup, winning the Golden Boot for his outstanding performances. He has since become a regular in the national team setup, earning plaudits for his contributions in major tournaments such as the UEFA European Championship.

Serge Gnabry's career trajectory exemplifies the importance of resilience and seizing opportunities. From his time at the Arsenal academy to his current success at Bayern Munich, he has consistently displayed his remarkable talent. As he continues to evolve as a player, football enthusiasts eagerly await the next chapter in the career of this dynamic German forward.

Arsenal are looking to add some attacking reinforcements to their squad this summer, to battle with Bukayo Saka and Gabriel Martinelli for a place on the wing at the Emirates Stadium.

Arsenal could be willing to pay as much as 50 million euros to lure the German international back to England.