Chelsea and Liverpool battle to sign Manuel Ugarte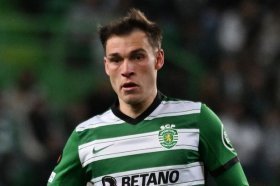 Both Chelsea and Liverpool are confident of agreeing a move for defensive midfielder

Manuel Ugarte

, currently playing for Sporting Lisbon. The Uruguayan starlet, who began his career at Fenix and Famalicao, moved to Portugal in 2021 and has impressed with his displays.


The 22-year-old is allowed to move this summer for a fee of 30 million euros and is widely regarded as one of the continent's brightest young players.

Born on May 15, 2001, in Montevideo, Uruguay, Manuel Ugarte's football journey began at a young age. He displayed an innate passion for the sport and possessed a natural ability to control and dictate the flow of the game from midfield. Ugarte's talent did not go unnoticed, and he quickly made his way through the youth ranks, impressing coaches and scouts with his technical proficiency and tactical understanding.

Ugarte's professional career took off when he joined the renowned Uruguayan club, CA Fenix. With his exceptional vision and passing range, he became a crucial figure in the team's midfield. Ugarte's ability to read the game, break opposition lines, and provide key assists earned him accolades from both teammates and fans.

His outstanding performances did not go unnoticed on the international stage either. Ugarte was called up to represent the Uruguayan national team, showcasing his talents against top-class opposition. With his composure, agility, and strong work rate, he has proven himself to be a valuable asset in the midfield, contributing to Uruguay's success in international competitions.

Ugarte's rise to prominence has also attracted attention from clubs abroad, leading to his move to the Portuguese club, Sporting CP, in 2021. The transfer signaled a new chapter in his career, providing him with an opportunity to further develop his skills and compete at a higher level. Ugarte's performances at Sporting CP have continued to impress, solidifying his status as one of the most promising midfielders in the game.

With several players departing both the Blues and Liverpool, there are midfield gaps that need to be plugged, especially at Anfield. Alex Oxlade-Chamberlain and Naby Keita are both likely to leave, whilst uncertainty over Mason Mount at Stamford Bridge continues.