Liverpool line up bid for Khéphren Thuram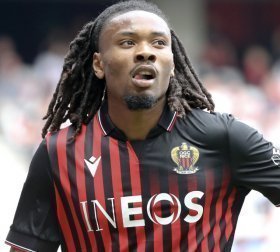 Liverpool are to table a bid for 22-year-old midfielder Khéphren Thuram of French club Nice, with the Anfield side ready to pay around 35 million euros to sign the player. The player received a first cap for France in March of this year, and has caught the eye in the 2022-23 season with a series of impressive displays.


Khéphren Thuram's rise in the world of football has been nothing short of remarkable. Born on March 26, 2001, in Parma, Italy, to French football legend Lilian Thuram and French journalist Karine Le Marchand, Khéphren inherited the footballing genes from his father and embarked on his own journey in the beautiful game. Having grown up in a footballing family, it was evident from an early age that Khéphren possessed exceptional talent and a deep passion for the sport.

The young midfielder began his footballing education at the esteemed Clairefontaine academy in France, where he honed his skills and developed a strong tactical understanding of the game. It was during his time at Clairefontaine that Khéphren caught the attention of scouts from French club Nice, who wasted no time in securing his services. Thuram joined Nice's youth academy and quickly made his way through the ranks, impressing coaches with his technical ability, vision, and composure on the ball.

After several seasons of showcasing his talent in the youth setup, Khéphren Thuram finally made his breakthrough into the first team during the 2020-21 campaign. Displaying maturity beyond his years, the 22-year-old midfielder quickly established himself as a key figure in Nice's midfield, earning a reputation for his precise passing, intelligent positioning, and ability to dictate the tempo of the game. His performances did not go unnoticed, and in March of 2023, Khéphren received his first call-up to the French national team, a testament to his rapid progression and immense potential.

As Liverpool sets their sights on Khéphren Thuram, the talented young midfielder stands on the brink of a new chapter in his career. With his creative flair, technical prowess, and strong work ethic, Thuram has the potential to become a formidable force in Liverpool's midfield. If the transfer goes through, the Anfield faithful can expect to witness the rise of a player who has already shown glimpses of greatness and is poised to leave an indelible mark on the world of football. As the summer transfer window heats up, all eyes will be on Khéphren Thuram as he prepares to make his mark on the Premier League stage.