Tottenham weigh up move for Robin Koch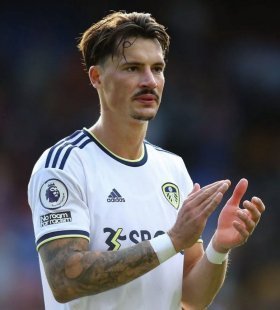 Tottenham's busy summer of transfer business looks likely to begin with a move for Leeds United's centre-back

Robin Koch

. The 26-year-old German defender, who has eight caps to his name, will be leaving Elland Road after three years, after the club suffered relegation back to the Championship.


Tottenham Hotspur's pursuit of defensive reinforcements has led them to set their sights on Robin Koch, the highly-regarded center-back currently plying his trade at Leeds United. With the North London club looking to bolster their backline, the 26-year-old German international has emerged as a prime target for the club.

Having enjoyed a successful spell at Elland Road since his arrival in 2018, Robin Koch now finds himself seeking a new challenge following Leeds United's unfortunate relegation from the Premier League. The towering defender's impressive performances have earned him eight caps for the German national team, showcasing his quality and potential on the international stage.

Koch's arrival at Tottenham would inject much-needed strength and stability to their defense. Standing at 6'3", he possesses excellent aerial prowess and is a formidable presence in both penalty areas. Known for his ability to read the game, Koch's positioning and anticipation make him a reliable shield against opposition attacks. Moreover, his calmness on the ball and ability to initiate attacks from the back perfectly align with Tottenham's style of play, providing a solid foundation for their build-up play.

The German's versatility is another aspect that makes him an attractive proposition for Tottenham. Able to operate both as a center-back and a defensive midfielder, Koch brings valuable flexibility to the squad. His adaptability would allow Spurs' coaching team to deploy different tactical setups and provide cover in multiple positions, enhancing squad depth and increasing defensive options.

As Tottenham kick-start their summer transfer business with a move for Robin Koch, the signing of the talented German center-back would undoubtedly bolster their defensive capabilities. With his aerial dominance, intelligent reading of the game, and positional awareness, Koch has the potential to solidify Tottenham's backline and provide the platform for the team to push for success in the upcoming season.