Tottenham to bid for Lucas Beltran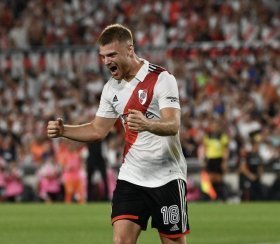 Tottenham's summer business is likely to be extremely busy, and today Spurs have been linked with a transfer move for 22-year-old forwawrd Lucas Beltran. The Argentinian, currently plying his trade for River Plate, is amongst a host of attacking talent linked with a move to White Hart Lane.
Tottenham Hotspur's summer transfer plans have taken an exciting turn with the club being linked to the acquisition of Lucas Beltran, a promising 22-year-old forward currently playing for River Plate. As Spurs aim to bolster their attacking options, Beltran has emerged as a potential target alongside a host of other talented attackers.

Lucas Beltran's rise through the ranks at River Plate has been nothing short of impressive. Hailing from Argentina, Beltran joined the club's youth academy and quickly made his mark with his raw talent and goalscoring prowess. He progressed through the ranks, showcasing his ability to both create and finish chances. His performances caught the attention of the first-team coaches, leading to his promotion to the senior squad.

At River Plate, Beltran has already showcased his potential and versatility as an attacking threat. Capable of playing as a forward or on the wings, his agility, quickness, and technical skills make him a potent weapon in the final third. Beltran's ability to take on defenders, create space, and contribute with both goals and assists has garnered attention from clubs around the world.

If Tottenham were to secure the services of Lucas Beltran, they would be adding a dynamic and promising forward to their squad. His ability to stretch defenses with his pace and dribbling skills would provide a different dimension to their attacking play. Beltran's creativity and eye for goal would also complement Tottenham's existing attacking options, adding depth and competition for places.

Furthermore, the Argentine's youth and potential for development align well with Tottenham's strategy of building for the future. Beltran could be given an opportunity to eventually replace star striker Harry Kane, and at Spurs could flourish and continue to refine his skills, eventually becoming a key figure in Tottenham's attacking setup.

As the transfer rumors intensify, Tottenham's pursuit of Lucas Beltran showcases their ambition to add exciting talent to their ranks. Beltran's impressive performances at River Plate and his potential for growth make him an intriguing prospect for Spurs. Should the transfer materialize, it could prove to be a significant move for both player and club, with the young Argentine forward adding value and excitement to Tottenham's attacking arsenal.