Bidding war between Arsenal and Tottenham to commence for James Maddison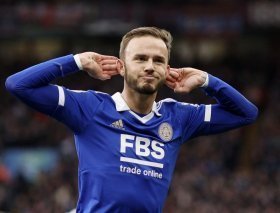 Leicester City's relegation to the Championship opens the door for midfielder

James Maddison

to depart the club, and reports today suggest that both Arsenal and Tottenham are considering a move for the England international. Maddison is said to have informed his agent that he wants to stay in the Premier League, with the Foxes having decided to allow the player to leave.


The potential availability of James Maddison has sparked considerable interest from two fierce North London rivals, Arsenal and Tottenham. The England international midfielder has showcased his immense talent and creativity during his time at Leicester City, establishing himself as a key figure in their midfield. With Leicester's relegation to the Championship, it is widely believed that Maddison will seek a move to remain in the Premier League, opening the door for top-flight suitors.

Maddison's skill set and attributes make him an enticing prospect for any team. Known for his technical proficiency, exceptional vision, and ability to unlock defenses with precise passing and through balls, he possesses the tools to be a game-changer in the attacking third. Maddison's eye for goal is also noteworthy, as he has consistently contributed with both goals and assists throughout his career.

For Arsenal, the addition of James Maddison would significantly enhance their midfield options and inject creativity into their play. With his ability to link midfield and attack seamlessly, he would provide the Gunners with a playmaker who can dictate the tempo and unlock tight defenses. Maddison's versatility in operating as an attacking midfielder or in wider positions would also offer tactical flexibility to Arsenal's setup.

Meanwhile, Tottenham Hotspur would benefit from Maddison's attacking prowess and his ability to provide a cutting edge in the final third. With his astute passing and knack for scoring crucial goals, he would provide an additional goal threat alongside Harry Kane and Son Heung-min. Maddison's versatility to play in various midfield roles would also provide tactical options for Tottenham.

Both Arsenal and Tottenham are aware of the immense potential and impact that James Maddison can bring to their respective teams. The race to secure his signature promises to be fierce, with the player's desire to remain in the Premier League adding an extra layer of intrigue to the situation. As the transfer market unfolds, it will be fascinating to see which North London club can convince Maddison to join their ranks and unlock his full potential in the pursuit of success.