Man City and Newcastle battle to sign Celta midfielder Gabri Veiga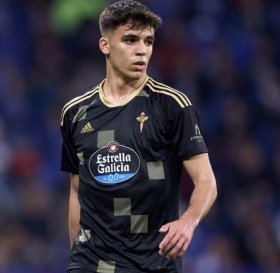 Both Newcastle United and Manchester City have been monitoring

Gabri Veiga

, currently playing in La Liga for Celta. It is understood that the Premier League duo are preparing a bid of close to 25 million euros for the 21-year-old, who has an appearance for Spain's under-21 side already.


According to the Express, Newcastle are close to making Veiga their first signing of what is expected to be a particularly busy summer transfer window. The lure of the Champions League is sure to interest the midfielder. Meanwhile Premier League champions Man City are also closely monitoring the player's status.

Known for his versatility and technical prowess, Veiga has primarily operated as a central midfielder but has also showcased his skills in an attacking role. His vision, passing accuracy, and ability to dictate the tempo of the game make him a valuable asset in the midfield. Furthermore, his excellent ball control and dribbling skills allow him to navigate tight spaces and retain possession under pressure.

One of Veiga's standout qualities is his ability to contribute in both the offensive and defensive phases of the game. Not only does he possess the creativity to unlock defenses with incisive through balls and clever movement, but he also displays a commendable work rate and determination when it comes to tracking back and winning the ball. His tactical awareness and positional sense make him an intelligent player who can adapt to different styles of play.

Having joined Celta Vigo's youth academy at a young age, Veiga has progressed through the ranks, honing his skills and gaining valuable experience in the demanding environment of La Liga. His development has been closely monitored by several top clubs, with Newcastle United and Manchester City emerging as serious suitors for his signature.

If the rumored transfer materializes, it would undoubtedly represent a significant step forward in Veiga's career. Joining either Newcastle United or Manchester City would provide him with an opportunity to further develop his talent under the guidance of top-class coaches and compete at the highest level of English football.

The reported bid of approximately 25 million euros signifies the confidence these Premier League clubs have in Veiga's potential. Such a transfer would not only be a testament to his current ability but also a long-term investment in a player who possesses the qualities to become a prominent figure in European football.

As negotiations progress, both clubs will undoubtedly weigh the risks and rewards of acquiring such a young talent. However, considering Veiga's technical skills, versatility, and the experience he has gained at a relatively young age, it is no surprise that Premier League giants are vying for his signature, hoping to secure a player who could shape their midfield for years to come.