Ruben Loftus-Cheek to depart Chelsea for AC Milan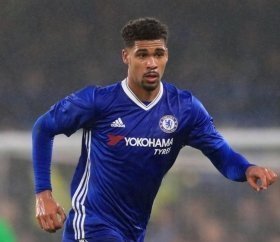 Ruben Loftus

-Cheek will leave Chelsea this summer and join AC Milan, with the midfielder set for a long-term contract in Italy. Loftus-Cheek has been deemed surplus to requirements at Stamford Bridge and will end his lengthy stay this summer.


Ruben Loftus-Cheek is poised to bid farewell to Chelsea and embark on a new chapter in his career by joining AC Milan. The talented midfielder is reportedly on the verge of securing a long-term contract in Italy, as he seeks regular playing time and a fresh start. After being deemed surplus to requirements at Stamford Bridge, Loftus-Cheek's departure from his boyhood club seems inevitable, with AC Milan ready to welcome him into their ranks.

Loftus-Cheek possesses a unique blend of physicality, technical ability, and versatility that has impressed onlookers throughout his career. Standing at an imposing 6 feet 3 inches, he possesses an imposing presence on the pitch, which he complements with excellent ball control, dribbling skills, and an eye for goal. His ability to drive forward with the ball at his feet and use his strength to shrug off challenges makes him a potent force in midfield.

Furthermore, Loftus-Cheek's versatility allows him to contribute in various positions across the midfield and attacking lines. He is equally comfortable operating as a central midfielder, an attacking midfielder, or even as a supporting striker. This adaptability provides tactical flexibility for his team and gives managers the freedom to deploy him in different roles based on the needs of the game.

The decision to leave Chelsea and embark on a new challenge at AC Milan is fueled by Loftus-Cheek's desire for regular playing time and the opportunity to reinvigorate his career. Despite showing immense potential, the midfielder has struggled to cement a consistent starting position at Stamford Bridge due to fierce competition and a series of injuries that hampered his progress.

By moving to AC Milan, Loftus-Cheek aims to reignite his career and showcase his true potential on a more consistent basis. The Italian giants boast a rich history and tradition, and the prospect of playing for such a prestigious club in one of Europe's top leagues undoubtedly entices the midfielder. AC Milan's commitment to nurturing young talent and their recent resurgence in domestic and European competitions align with Loftus-Cheek's aspirations for success and growth.

AC Milan can expect a player who combines physicality with technical finesse. Loftus-Cheek's presence will add a powerful dynamic to their midfield, providing a box-to-box presence and an ability to dominate aerial duels. His contributions in both the offensive and defensive phases of the game make him a valuable asset. He possesses the vision and passing range to unlock defenses, while also possessing the physical attributes to track back, win tackles, and regain possession.

Moreover, Loftus-Cheek's experience in the Premier League and with the England national team will add maturity and leadership qualities to AC Milan's midfield. His exposure to high-pressure environments and big-match situations will prove invaluable as the club strives for success in domestic and European competitions.

As the transfer progresses, both Ruben Loftus-Cheek and AC Milan will be eager for a seamless transition and successful integration into their respective new ventures. For the player, this move represents an opportunity to establish himself as a key figure in one of Europe's most historic clubs. For AC Milan, securing Loftus-Cheek's services showcases their ambition to compete at the highest level and build a squad capable of challenging for honors.