Tyler Adams set for Newcastle switch?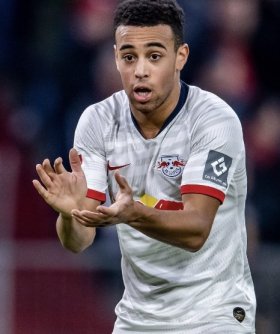 USA international

Tyler Adams

is set on staying in the Premier League, after his club Leeds United were relegated to the Championship and multiple teams, including Newcastle, expressed interest in the player. It is understood that the Toon Army will table an official offer next week.


Tyler Adams appears determined to continue his Premier League journey, despite his club Leeds United suffering relegation to the Championship. The talented midfielder has garnered significant interest from several clubs, with Newcastle United emerging as one of the frontrunners in the pursuit of his signature. Reports suggest that the Toon Army is poised to make an official offer for the dynamic player in the coming week, signaling their intent to bolster their squad for the challenges ahead.

Tyler Adams possesses a unique skill set that has garnered attention both in the Premier League and on the international stage. Renowned for his versatility and tireless work ethic, he is equally adept at playing as a central midfielder, a right-back, or even as a right-sided winger. This adaptability not only provides valuable options for his team tactically but also highlights his ability to excel in multiple positions.

One of Adams' standout qualities is his exceptional energy and stamina. He covers vast amounts of ground throughout matches, tirelessly tracking back to contribute defensively and providing a constant outlet for his teammates in the attacking third. His work rate is a testament to his commitment to the team's cause and his unwavering determination to make an impact on the game.

Beyond his physical attributes, Adams possesses excellent technical abilities. His close control, quick feet, and sharp passing enable him to retain possession in tight spaces and initiate attacks with precision. Moreover, his reading of the game and tactical intelligence allow him to make effective decisions on and off the ball, seamlessly transitioning from defense to attack and vice versa.

Adams' defensive contributions should not be overlooked either. His tenacity, anticipation, and well-timed tackles make him a formidable presence in midfield, disrupting opponents' play and winning back possession for his team. He has showcased an ability to break up opposition attacks and launch swift counter-attacks with his accurate distribution.

Adams has already gained valuable experience on the international stage, representing the United States in major tournaments such as the FIFA World Cup and the CONCACAF Gold Cup. His exposure to high-pressure situations and his ability to perform consistently for his country underscore his mental resilience and maturity as a player.

Should Newcastle United successfully secure the services of Tyler Adams, it would represent a significant coup for the club. His dynamic playing style, versatility, and tireless work rate would inject a fresh dimension into their midfield and provide valuable options for manager and fans alike. Additionally, his hunger to prove himself in the Premier League and contribute to Newcastle's ambitions could see him emerge as a fan favorite at St James' Park.

As the transfer window gathers pace, the Newcastle faithful eagerly anticipate news of Tyler Adams' potential arrival. While other clubs vie for his signature, the prospect of joining the Toon Army may be an enticing one for the talented midfielder. If the deal comes to fruition, Adams' acquisition would undoubtedly signal Newcastle United's intent to bounce back from relegation and reestablish themselves as a force to be reckoned with in the Premier League.