Newcastle ready to make bid for Joao Felix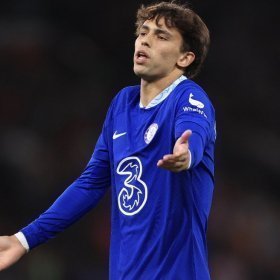 Newcastle are planning a shock move for Portuguese attacker

Joao Felix

this summer, after Chelsea opted to not make a bid for their on-loan player.

Joao Felix

spent the 2022-23 campaign with the Blues, but has failed to leave a lasting impression and has been informed he is free to return to Atletico Madrid.


In a surprising turn of events, Newcastle United is reportedly making ambitious plans to secure the services of Portuguese attacking sensation Joao Felix this summer. The move comes as Chelsea, the club where Felix spent the 2022-23 season on loan, decided against making a bid for his permanent transfer. Despite the young talent failing to make a lasting impression at Stamford Bridge, Newcastle sees an opportunity to harness his potential and revitalize their attacking prowess at St James' Park.

Joao Felix burst onto the scene as a prodigious talent at Benfica, catching the attention of Europe's top clubs before joining Atletico Madrid in 2019 for a record-breaking fee. Regarded as one of the most promising young players in world football, the Portuguese international possesses exceptional technical skills, flair, and an innate ability to create and score goals.

While Felix's stint at Chelsea may not have lived up to expectations, it is essential to consider the numerous factors that may have influenced his performances. Adapting to a new league, culture, and playing style can be challenging for any player, especially at such a young age. However, Newcastle United believes that Felix's immense potential remains untapped and sees an opportunity to provide him with the platform and support necessary to fulfill his talent.

Should the deal materialize, it would undoubtedly represent a statement of intent from Newcastle, a club that has recently undergone a change of ownership and is looking to establish itself as a force to be reckoned with in English football. The acquisition of a player of Felix's caliber would not only signal their ambition but also attract further attention and potentially lure other marquee signings to the club.

Felix's skill set makes him a versatile attacking threat capable of operating in various positions across the frontline. His dribbling ability, close control, and incisive passing make him a formidable creative force, capable of unlocking defenses and threading precise through balls. Moreover, his intelligent movement off the ball and clinical finishing enable him to score goals with both feet, making him a constant threat in the final third.

While Newcastle's interest in Felix is undoubtedly exciting, the competition for his signature is expected to be fierce. Several top clubs across Europe have long admired his talent, and Atletico Madrid, his parent club, may opt to retain him in their ranks and provide him with another chance to shine. However, the prospect of being a central figure in Newcastle's revival, coupled with the potential backing of significant financial resources, may sway Felix's decision in favor of a move to St James' Park.

If Newcastle United successfully secures the services of Joao Felix, it would mark a significant coup for the club and signal their determination to challenge the established order in the Premier League. The 23-year-old's arrival would inject a new level of excitement and quality into the squad, offering fans a glimpse of the club's lofty ambitions for the future.

As the summer transfer window unfolds, the football world eagerly awaits news of Joao Felix's next destination. Whether it be a return to Atletico Madrid or a surprise move to Newcastle United, one thing remains certain: the young Portuguese talent possesses immense potential and the opportunity to leave an indelible mark on the game.