Cannavaro: Torres is the threat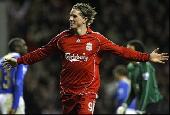 Italian captain

Fabio Cannavaro

has singled out Spanish striker

Fernando Torres

as the man that could unhinge his team's Euro 2008 challenge.
The Real Madrid defender has been surprised by Torres's adaptation to the Premier league in which he scored 24 goals, eclipsing Ruud Van Nistelrooy's record for the most goals scored in a first season by a foreign player.

Cannavaro said: "Fernando Torres has made an incredible improvement. Last year I saw him as a bit of a softie but then he went to the Premier League, where you can't be a softie, and he exploded."

If results permit, Italy could face Spain in the quarter finals.