Shearer rules out Blackburn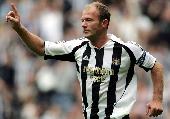 Alan Shearer

has ruled out the opportunity of taking control of Blackburn after the departure of Man City's new boss

Mark Hughes

. Blackburn were reportedly lining up Shearer to be his successor.
However, Shearer was quick to rule out the speculation: "I wish Williams all the luck, and i'm sure he'll make a good decision.

"He made two good ones in the last two appointments, so I'm sure he will make another."

Shearer is reportedly happy as a personality for BBC's football coverage and is expected to continue doing so.