Raul to sign for Man City?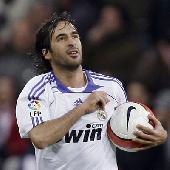 Manchester City has enough money to buy any player in the world, but, can they buy loyalty with that? The latest reports from Spain suggest that they might be able to!
One of the top newspapers from Spain, Marca, reports that Manchester City has offered £35m for Real Madrid superstar Raul. The Los Blancos captain is a legend in Spain, who has broken all sorts of goal scoring records in La Liga.

The 31-year old striker is hugely experienced and is well known for his loyalty to the club. His contract runs down until the end of the 2011 season. Real Madrid was supposed to be giving a life-time contract for Raul, Casillas and Guti - the veterans who came through the youth ranks of the club. But, the current situation at the club says that the new president's decision would be final.

Florentino Perez is the man whom everyone backs and he might be elected as the President again this year, with Jorge Valdano coming back as the Technical Director. Perez had promised to bring the young and experienced talents to Madrid including David Villa, Silva, Kaka, Benzema and Cristiano Ronaldo to bring back the nearly forgotten Real Madrid glory. If he sticks by his decision, Raul might be sold to Man City which would question the desire of any club's management towards loyalty.

Raul had been a Real Madrid fan, player and legend through out his career so far and he had declared that he will end his footballing days with the nine times champions league winners.

Although the speculations are increasing, reports from Man City say that former Real Madrid striker, Robinho, had asked the management to sign Raul to lift the club to new heights.