Maicon rules out Man City switch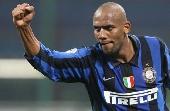 Brazilian defender Maicon has ruled out any chance of a move to Manchester City this summer, instead insisting that he would like to play for Real Madrid. The defender, valued at around 15 million GBP, wont the Champions League this year with Inter Milan and is happy to stay in Italy if he cannot get his dream move to Spain.
"What I want is to play for Madrid and it would be an honour for me to be there because I have said it would be a great opportunity in my career," Maicon told AS.

"With Manchester City I have nothing, I can assure that. I will make it very clear to prevent misunderstandings: I want to play for Madrid, I do not want to go to Manchester City.

"Moreover, I repeat that I have nothing with the English club."