Capello praises England spirit after 3-0 win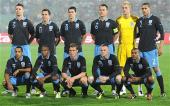 Fabio Capello

praised the spirit in the England camp after his side travelled to Bulgaria and won 3-0.

Wayne Rooney

scored two, whilst Bolton defender

Gary Cahill

also scored his first international goal.
"It was important to win here," Capello told Sky Sports.

"We played a really good game, it wasn't easy here. We scored good goals, we played really well through the game."

"At some moments we pressed a lot and won the ball, at other moments we didn't press and go forward for the last 10 minutes of the first half."

"But I'm happy, for the group but also for the spirit of the team."

"Some players didn't play a lot of games this season, but I saw the forwards come back to help the midfielders, they in turn to help the defenders and also the midfielders go forwards. It was good to see the players fight to win."