Capello blames Wembley for bad performance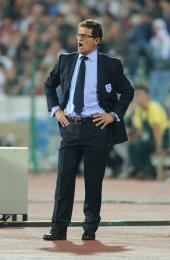 Fabio Capello

has blamed Wembley Stadium for the poor performance that England showed against Wales in the Euro 2012 qualifiers on Tuesday night.
England scraped a 1-0 victory against Wales, but afterwards Capello admitted that the performance was not the best.

Capello said: "I think here we lose the confidence. Some players who can usually dribble and can go straight for the goal do not. I want always three players in front of the goal and there was only one.

"But I am happy for the result. It was the most important thing. When you play at Wembley the opponents want to play with more courage and pressure.

"When we played qualification matches for the World Cup we played very well and we never had problems when we played at home, but not today. Today there was the pressure of the result. When you play without the pressure (of the result) it is different. You can do something with a free mind. You play well."