Wenger slates Arsenal defence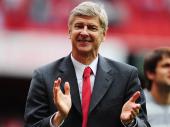 Arsenal boss

Arsene Wenger

lies in the middle of a crisis at the Emirates, as his side currently have the worst goal difference in the Premier League. Wenger admitted that the problems stem from Arsenal's poor defensive record.
Arsenal slumped to a shock 4-3 defeat to Blackburn at Ewood Park at the weekend, with two own goals conceded by the Gunners.

Wenger put that poor defensive record down to: "A lack of concentration, a lack of communication, a lack of co-ordination and individual urgency.

"When you score an own goal, you have to look at yourself. It is never completely out of your reach where you have no chance at all. All the rest, you have to look at yourself.

"The Blackburn game is very disappointing and frustrating. I must say that the disappointments and frustrations are huge. We feel that we have given this game away, not that we have lost the game. There is nothing worse in our job than having that feeling."