Spurs assistant happy to keep Modric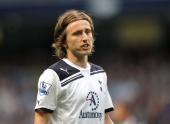 Tottenham's assistant manager

Kevin Bond

believes that the club's decision to keep star midfielder

Luka Modric

at White Hart Lane has started to pay dividends.
Tottenham reportedly rejected a 36m GBP offer for the Croatian midfielder before the transfer window closed; and Chelsea subsequently turned their attention to Spanish midfielder Juan Mata.

Assistant manager Kevin Bond noticed that Modric has recovered his form, and at the weekend scored a goal in the 4-0 defeat of Liverpool.

This therefore vindicates the club decision to keep Modric: "You could see Luka has got his head round the situation.

"It'll prove a really wise decision on behalf of the club not to let him go.

"Had they offered absolute fortunes and the chairman and Harry thought the squad could have benefited from it they would have taken a view but they didn't think it was right for us."