Arsenal boss stays positive on Giroud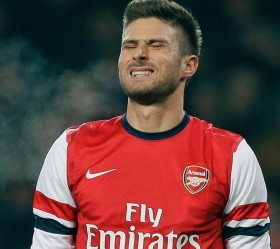 Arsenal manager

Arsene Wenger

insisted French striker

Olivier Giroud

will come good. The forward has so far struggled to adapt to the rigours of the Premier League, but has also shown some flashes of brilliance.
Giroud missed a golden opportunity to wrap up a victory for Arsenal this week against Everton in the Premier League, and Wenger was later asked if he feels Giroud is capable of playing at the highest level in the Premier League.


"He gave a lot until now and for his first season he is doing extremely well because he has a fantastic attitude, he is a positive mind," Wenger said. "He gives us another dimension with the physical challenges in the air. He has scored 17 goals in all competitions, 11 in the championship. For a first season that is quite good," said Wenger.


"He is very extrovert but as well he has a basic positive nature. He wants to do well, he is desperate to do well, but he is not the one who hides after. He stands up for what he has done and I feel he deals quite well with that.


"Yes, but he has good physical potential, Olivier. He wants to play every single game, he has a good basic stamina and he can absorb the games. He can absorb the body to body because he's a strong guy. I think you will see more from him next season, and there's a lot more to come from him."