Is it time for Wenger to leave?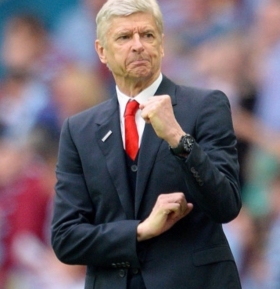 Arsene Wenger

, arguably the greatest Arsenal manager ever, has brought trophy after trophy for the North London club. Despite this, his departure has been rumoured for a number of years and with fans getting on his back more than ever, we wonder if it is finally time for him to go.
Since his appointment in 1996 the 'Arsene era' has brought countless trophies to both Highbury and the Emirates. In the 20 years he has been in charge he has delivered.  3 Premier League titles, 6 FA cups and 5 community shields means that there was an abundance of silverware coming into the club. Also the consistent top 4 finishes mean that Arsenal have been competing amongst Europe's elite for many years. He could also boast of assembling one of the best teams the world has ever seen. Arsenal's 2003/04 'invisibles' are the only team to have ever gone unbeaten in a whole Premier league season.  Since those glory days however, the club has gone backwards. 12 years without a title is not good enough for a team that consists of that quality. As well as that, a nine year run between 2005 and 2014 without a trophy meant that established starts left for a team that could guarantee silverware. Viera, Henry, Hleb, Fabregas, Nasri and Van Persie are just some of the many players to leave during this period. The sale of these world class would obviously mean that Arsenal would be weaker, and without the promise of trophies, world class players did not want to join them. Which leads me onto my next point.

For a number of years, Wenger has been criticized for his lack of ability in the transfer market. His reluctance to spend big on a striker or a holding midfielder caused many fans to become frustrated. However that appeared to change ahead of the 2013 season, where they spent big to lure German playmaker Mesut Ozil from Real Madrid. Olivier Giroud also joined him as Arsenal looked to finally send an assault on the league. Although that did not happen he spent big again the next year. This time it was Barcelona's Alexi Sanchez that joined the gunners. Ahead of this season Arsenal had their best team for years, and many fans thought that if they spent well they could challenge for the title. However that is not what happened. Only Petr Cech joined the gunners in the summer. As good as the Czech international has been, Arsenal needed more than a goalkeeper to challenge for the league. The stellar signing did not come in January either, wasting a really good opportunity for league success.

The fans are now getting on Wenger's back like never before. There has been plenty of Wenger out campaigns over the years, but none feel as one sided as this. The campaign that took place in Arsenal's recent unconvincing 1-0 win over Norwich showed just why fans thought change was needed. Years ago Arsenal would have dominated this, and every other match against weaker teams in the league. Instead they struggled to create chances, and had to rely on the heroics of Cech in goal, to still be in the match by the time Danny Welbeck scored the winner. This just underlines the fact that this, and the last few seasons, Arsenal have been so incredibly inconsistent. This is one of the main reasons why they haven't been able to win a league title, and a main reason why many feel that Wenger should go.

The worst thing about the whole situation is that the Arsenal board won't sack him. They feel that he has done too much for the club, and also they are scared. Scared about what might happen should he leave. The only way that Wenger will leave is if he resigns.

Many fans thought that after their recent FA cup triumph it would be a perfect time for Wenger to leave. However he stayed on and doesn't look to leave any time soon. Wenger out supporters are going to have to wait a bit longer.