Pep Issues City Six Ultimatum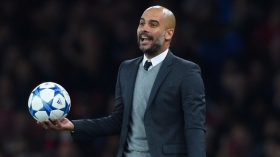 Pep Guardiola

has told as many as six Manchester City players who are approaching the end of their contracts at the Etihad to prove that they deserve to be at the club, or find themselves on the way out.
Guardiola's first season in Manchester hasn't been a walk in the park, currently sitting eleven points behind Premier League leaders Chelsea. However, City are still competing in the Champions League and FA Cup, with the team looking much better over recent months. 

The Spaniard will certainly look to strengthen his squad in the summer, and to do so he may need to have a squad clear out, to free up spaces in his squad and lighten the wage bill slightly. Guardiola has now warned six of his players, prove that you deserve a new contract, or you will not be offered one. 

Yaya Toure, Pablo Zabaleta, Gael Clichy, Bacary Sagna, Jesus Navas and Willy Caballero are all out of contract in the summer, and with Guardiola not willing to enter contract negotiations until the end of the summer, as previously seen with Joe Hart, he has issued them a warning.

If the six fail to prove that they can help City challenge for the title next season, they will be shown the exit by the manager. Guardiola admits that it is a risk leaving contract talks until the summer, but it is a risk that he is willing to take, as he looks to get the best out of his team.