Bayern Munich take ten point Bundesliga lead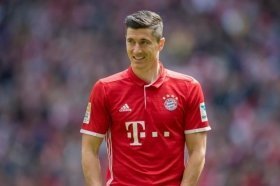 Bayern Munich returned to Bundesliga action on Saturday, fresh from their 10-2 aggregate demolition of Arsenal in the Champions League. They hosted Eintracht Frankfurt, as they look to fight off title challenges from RB Leipzig and Borussia Dortmund. 
In a match that saw Bayern have 72 percent of the possession, the home side looked comfortable throughout. Thirty eight minutes into the match, prolific striker Robert Lewandowski opened the scoring, before Douglas Costa doubled their lead minutes before the break. The final scoreline of 3-0 was reached ten minutes into the second half, when Lewandowski scored again, his one hundredth Bayern Munich goal, in just his 136th appearance for the club. 

With Bayern Munich winning, RB Leipzig and Borussia Dortmund knew that they must win to retain any hopes of winning the Bundesliga title. Both were beaten however, as Leipzig fell 1-0 at home to Wolfsburg and Dortmund were beaten 2-1 away to Hertha Berlin. 

With ten league games to play, Bayern Munich have now opened up a ten point lead over Leipzig and an even bigger sixteen point lead over Borussia Dortmund. Although they have had pressure applied to them throughout the season, Bayern Munich again look unstoppable in the Bundesliga.