To be or not to be for Shakespeare's Leicester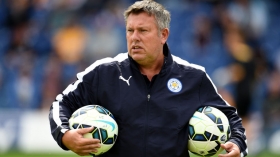 Craig Shakespeare

takes charge of Leicester City for the first time tonight, since he was given the job until the end of the season. Despite being outplayed in the first leg, the Foxes go into Tuesday's Champions League final 16 second leg trailing Sevilla just 2-1.


The first leg in Spain turned out to be Claudio Ranieri's final game as manager of Leicester City, where Jamie Vardy scored what could turn out to be a crucial away goal. Since Ranieri's dismissal, Craig Shakespeare has been running first team affairs, leading them to two consecutive victories in the Premier League.

Shakespeare is a hugely popular figure with the Leicester players and fans, and his appointment until the end of the season has given a much needed boost to the club. The Champions League has been a welcome distraction for the club, as they have been struggling in the Premier League following their title winning campaign last season.

Overcoming Sevilla will be a huge task, especially as they come into the second leg with a lead. However, the atmosphere provided by the Leicester fans will help the players, and if they can put on a solid defensive display and keep a clean sheet, Leicester may just fancy their chances of defying the odds yet again.