Zlatan turns down big money offer from United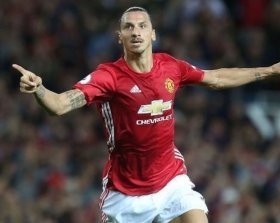 Despite picking up a long term injury, Manchester United are keen to keep

Zlatan Ibrahimovic

at the club. Reports today however suggest that the Swedish superstar has turned down a £13 million offer from the Old Trafford club.


When Ibrahimovic signed for the Manchester club on a free transfer last summer, an initial one year deal was agreed, with the option of an additional year if both parties were happy to do so. The signing has been a huge success, with Ibrahimovic scoring twenty eight goals in his debut season in England. There has been doubt about where he will be playing next season, which has intensified since he picked up a serious knee injury whilst playing for United in the Europa League.

That knee ligament injury will keep the thirty five year old out of action for nine months, meaning that Ibrahimovic will not be playing again until 2018. Manchester United manager Jose Mourinho is planning a title challenge with the club next season, and still believes that the Swede can have a big part to play in that.

The Portuguese manager has told Ibrahimovic that he is happy to trigger the one year extension to his contract, according to The Sun. The striker, who has played for some of Europe's biggest clubs, has responded to that offer by saying that it would not be right to accept the large sums of money being offered to him, whilst he is sidelined with injury.

It shows how important Ibrahimovic has become to Manchester United, with them willing to sign him for an additional year, despite the fact that he could miss most of it. It also shows great qualities from Ibrahimovic himself, in a situation where many players would be more than happy to accept the money.