Man Utd punished for bookings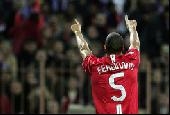 Manchester United have been punished by the FA for having seven players booked at Tottenham. The Premiership holders were fined £25,000.
Edwin van der Sar, Cristiano Ronaldo, Wes Brown, Nani, Nemanja Vidic, Wayne Rooney and Carlos Tevez were all booked in Saturday's 1-1 draw.

If six or more Man Utd players are to booked in further premiership games the fine will double to £50,000.

However, United will not face any disciplinary action after a number of players remonstrated with the assistant referee after Tottenham's goal.