Grêmio accepts Liverpool's £23 million offer for Luan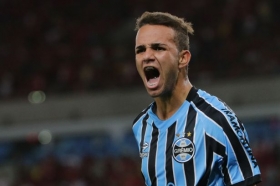 Reports in Brazil have claimed that Grêmio has accepted Liverpool's bid for Luan 
Metro has accredited the story to the local radio station in Grêmio, Radio Galera. Upon further investigation, the news received traction after a reporter named Luis Felipe Amorin, who works at Radio Galera, tweeted that Grêmio had accepted Liverpool's bid of £23 million.

He even stated that the bid officially came in on May 6.

Luan Guilherme de Jesus Vieira, simply known as Luan, has been on Liverpool's transfer list for some time and a deal struck this early will be a welcome sight for Liverpool manager Jurgen Klopp, who has a problem with forwards at the club.

When asked about wrapping up transfers early in a recent interview, Jurgen Klopp said, "If you ask me as a private person, I would say as soon as possible,"

Daniel Sturridge has not been able to maintain his fitness level and has been injured for majority of the season, while Divock Origi has not brought the level of consistency needed of a high-level forward.

However, Grêmio want to keep Luan at the club until after their Copa Libertadores campaign is over, which could potentially be in November should they reach the final. Luan on the other hand, wishes to leave for Liverpool in the summer. The next few weeks should give us a clearer picture of the exact details of the deal.

Luan has been described as a player who can either play on the wings or upfront, and is extremely quick on and off the ball.

Luan has scored 6 goals in 16 games this season and won the Copa do Brasil with Grêmio in December.