Gremio deny Luan to Liverpool claims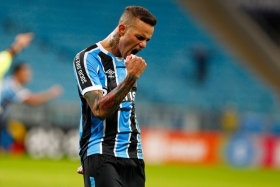 Grêmio president has denied reports confirming Luan's move to Liverpool.
The news of Luan's move to Liverpool blew up after a reporter for local radio station Radio Galera tweeted that Grêmio had accepted a £23 million bid from Liverpool for the forward dubbed "the next Ronaldinho". The reporter went as far as even specifying the date the offer was officially made, which was stated as May 6. 

However, Grêmio president Romildo Bolzan has gone on record to refute those claims. 

Speaking after Grêmio's 2-0 victory over Botafogo in the Brazilian league, Bolzan said, "Luan is a player who said he would have proposals but so far none have come, except for one about three years ago when he was on a different level."

When asked specifically about the reports linking Liverpool to Luan, Bolzan again said, "We have no approach, no official proposal [from Liverpool]. We have absolutely no concrete proposal."

Luan's agent Jair Peixoto also played down the reports, saying "We do talk to Liverpool, as we talk to other clubs as well, but there is no proposal."

The 24-year-old forward has a year left on his contract. Previously, Liverpool were thought to have agreed a deal for Luan but would allow him to leave only after their Copa Libertadores campaign, which could potentially be in November.