Spurs in talks with Champions League winner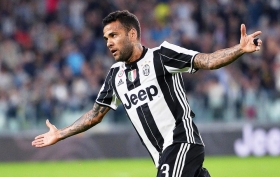 Tottenham Hotspur's wait for a Premier League title will go on for another year, after missing out to Chelsea this time.

Mauricio Pochettino

would like to add players to his squad that have experience of winning major honours, and the defender that they are reportedly in talks with has won it all.


Brazilian right back Dani Alves has had a glittering career, both on the international and club scene. Many believed that his career was almost over when he left Barcelona, but he has been a star of the Juventus team this season.

Although Juventus are keen to hold on to the thirty four year old, Alves is said to have a long held ambition to play in the Premier League, and Yahoo Sport reports that he has held initial talks with Tottenham Hotspur about a summer move.

The discussions are still in the early stages, but the report suggests that Tottenham have tabled an initial two year deal, with the option of a third if both parties agree to it.

Alves will be in Cardiff this month with Juventus, as they take on Real Madrid in the Champions League final. It is expected that Tottenham and Alves will resume talks in the aftermath of that match.