Manchester United - European Champions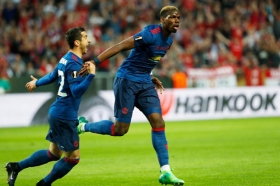 Manchester United beat Ajax on Wednesday night to win the 2016/17 Europa League in front of a sold out Friends Arena in Stockholm. Despite their huge success throughout history, The Red Devils had never won this competition before tonight. 
On a highly emotional night for the club and their city of origin, they opened the scoring after eighteen minutes. World record signing Paul Pogba had a shot from outside the area deflected, which was enough to see it beat the Ajax goalkeeper. 

Manchester United were in charge from that time, but were unable to double their lead before half time. That changed shortly after the interval, when Henrikh Mkhitaryan flicked the ball over his head  from close range to make it 2-0. 

As the game entered stoppage time, club captain Wayne Rooney came off the bench and was greeted by the Manchester United fans with a great reception. This could turn out to be Rooney's last game for the club, and what a great result to leave on. 

The game finished 2-0, meaning that Manchester United are Europa League champions and Jose Mourinho can add that success to the EFL Cup. Two trophies, in addition to Champions League qualification, will be assessed as a successful debut season for the Special One in his debut Old Trafford season. 

This victory will by no means take away the pain that the city of Manchester will be feeling this week, but it may offer a slight moment of cheer for them, in what has been such a devastating week.