Luka Modric set to leave Real Madrid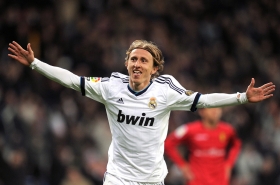 The Croatian midfield maestro has expressed his desire to leave the Bernabeu and thinks that winning the Champions League will present a perfect opportunity to leave on a high. 
Spanish newspaper Diario Gol has reported that Luka Modric will leave the Bernabeu if Real Madrid beat Juventus for the Champions League crown.

Modric has yet again been an integral part of Real Madrid's success this season. Playing alongside Toni Kroos and Isco, the midfield trio's consistency was pivotal in the final the few games in La Liga as they managed to push through and snatch the title away from Barcelona after five years.

However, the report from Diario Gol stated that Modric has not been enjoying his time under Zinedine Zidane as much as when Carlo Ancelotti was at the club. The Croatian feels that Ancelotti had a better understanding of a midfielder's role and that his game evolved under the Italian.

Modric was quoted by Diario Gol as saying: "If we win the twelfth, I'm leaving."  

The 31-year-old wants to leave on a high and does not want to wait for his form to dwindle and be sold by the club. 

Real Madrid already have a replacement in mind - Marco Verratti. The Italian midfielder recently pledged his future to PSG, but Real Madrid are still confident a deal can be made should Modric leave.