West Ham the latest club to target Joe Hart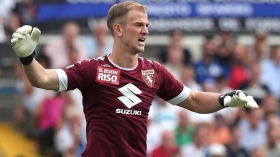 West Ham United are preparing to offer England goalkeeper

Joe Hart

the opportunity to end his Manchester City nightmare and keep his Premier League career alive.


The Sun reports that Hart is the man that Slaven Bilic wants to guard West Ham's goal next season and will look to sign the man that appears to have no part in Manchester City manager Pep Guardiola's plans.

Although Manchester City want to sell Hart to remove him from their wage bill, West Ham would be looking for an initial season long loan deal before making the transfer permanent next summer.

This is because the London club would struggle to fund the £18 million that Manchester City want to sell Hart for, on top of the £100,000 per week that he would earn.

Whilst Hart would still officially be a Manchester City player, they would be much happier with his entire salary being covered by West Ham. Although City did not want to sell to another Premier League club, they would much prefer to sell to West Ham than the likes of Manchester United and Chelsea, who were said to be interested and could challenge city for the Premier League title.