Lucas Perez's agent arrives in London ahead of striker's imminent departure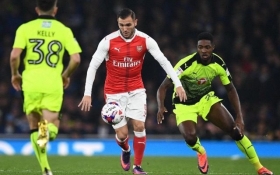 Perez's agent 

Rodrigo Fernandez

has arrived in London to quickly facilitate the departure for his client after communications with player and club broke down.
Lucas Perez had a terrible debut season for Arsenal following his highly-anticipated £17.1 million move from Deportivo. The forward only started one Premier League game, scoring just once in 11 league games. 

While Turkish clubs Fenerbahce and Galatasaray have lodged a bid for the Spaniard, Perez only wants to return to Deportivo. In an interview earlier this week, he was quoted by Football.London saying: "I want to leave to play and be happy." 

"Last year I barely had any opportunities and when I had them I took advantage of them and this season is clearly going to be more of the same. I want to fight to go to the national team. I want to play football, but for that I have to leave. I think that the best place for me is at home, with Depor. They [Arsenal] are not behaving well with me." 

His agent Rodrigo Fernandez arrived in London last night to facilitate the sale of his client. In an interview with Spanish newspaper Voz de Galicia, Fernandez was quoted saying: "I'm waiting for Arsenal to come back to me but the best offer they have on the table for Lucas is from Deportivo." 

"At Arsenal, they know he's going to play very little there and they know that Deportivo want him. It would be good for everyone to sell Lucas Perez. We have to convince them." 

With Perez having three years left on his contract, Arsenal would likely want around £12 million for the forward which is short of the £9 million Deportivo offered.