Bellerin admits that new 3-4-3 formation has not 'favoured' him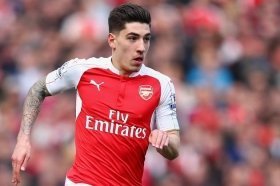 Amidst speculation linking Bellerin with a move away from Arsenal for much of the transfer window, the Spaniard has admitted that the switch in formation had affected his performances.
Bellerin came under fire last season and was one of the players singled out by fans for some of Arsenal's dismal performances which saw them finish out of the top four for the first time in 20 years.

Arsene Wenger switched things up towards the tail-end of the season, changing his formation from 4-2-3-1 to 3-4-3, a formation which also saw Bellerin dropped for most games as Wenger favoured Alex Oxlade-Chamberlain in the right wing-back role. 

Bellerin has now come on record to admit the difficulties he faced when Wenger switched formations but welcomes added competition for his spot in the upcoming season.

Speaking to the Arsenal Weekly Podcast, Bellerin was quoted as saying: "It's been a tough season for the club and for me personally as well. I've been through a few injuries, and changing the system hasn't favoured me in the last few games. But obviously that is football, nothing comes easy and we have to adapt to every single situation."

Bellerin faced little competition for his right-back position last season when Wenger played with four at the back, with Mathieu Debuchy's injuries and Carl Jenkinson not proving to be a worthy starter.

However, Bellerin welcomed the competition from Chamberlain: "It's really important to have someone in competition for your position. Because that's the way to make each other a better player. Sometimes when you don't have that competition you can relax and you can feel really comfortable."