Gareth Bale could still move to Manchester United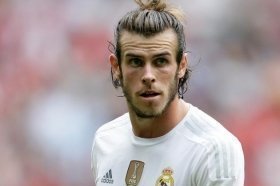 With Manchester United still looking for a winger after seeing a deal for

Ivan Perisic

fall through, a move for

Gareth Bale

is now a huge possibility after Zidane's comments and system which just doesn't suit the Welshman,
Manchester United were given a boost in their pursuit of Gareth Bale after Real Madrid manager Zinedine Zidane refused to rule out the sale of the Welshman.

Zidane was quoted by the Telegraph saying: "I hope they all stay for this season. I hope everyone remains. I want everyone who is here now to stay, but anything can happen right up until August 31."

At the same time, Zidane did not rule out a move for Monaco's Kylian Mbappe. When asked about the move and how it would affect the likes of Gareth Bale, who already had limited game time, Zidane said: "I'm the coach, you need to speak with someone else about whether or not it's worth it. Nothing has happened until now, and we have the squad we have." 

Bale did not have much game time for Real Madrid last season. While his injuries were a part of the reason behind it, Zidane's system was a bigger factor. The Frenchman switched from the original wide 4-3-3 formation to  4-1-3-2, where Kroos, Modric, and Isco played very narrowly. Zidane generally does not favour wingers coming back to defend, which led to him abandoning the 4-3-3. 

In addition, the sale of Gareth Bale could allow Real to splash the cash on Mbappe. They can no longer just buy as many players as they want due to UEFA's Financial Fairplay rules.